I'm linking up with:
and
for the April Shout Out Linky!
It's my first time and it's a HARD one.... my job is to give a shout out to 2 bloggers out there...one with more followers than me and one with less.
Ahhh!! How can I choose only 2! I
stalk
... I mean follow so many wonderful blogs! I'll have to join this linky every month to make sure I get a chance to recognize all the talented peeps in the blogging world!
Let's start with the one who has less followers than me...but not by that many... I would like to give a shout out to Jill Sloothaak at ABC's and Polka Dots.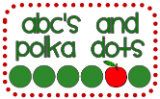 As she says on her blog... Polka dots make everything more fun! And I do agree. I like her ideas and her style. Go check her out!
This next one was a super hard choice, but I am going to go with Khrys Bosland at Keepin' it Kool in Kinderland! Bottom line she is funny...she has a great blogging "voice." Sometimes I read back my own writing and think...yuck! Why do I sound so boring?.....Spice. It. Up! Khrys needn't worry about that. She's great and quite talented. She's the kinda girl I know I would love to teach with!